arrow_left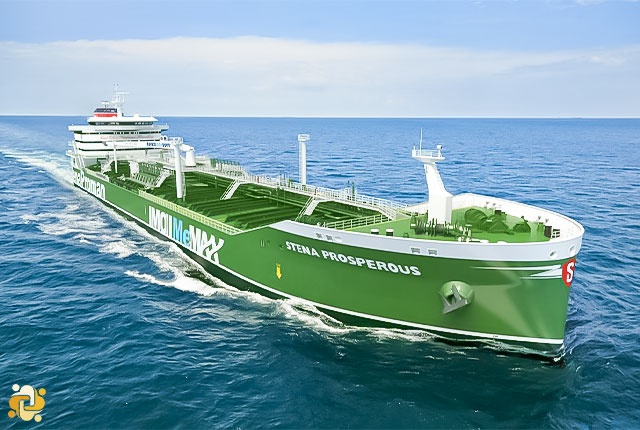 Proman Stena Bulk takes delivery of fourth methanol-powered tanker
2022-12-28 20:40
Proman Stena Bulk, a joint venture (JV) company of Stena Bulk and Proman, has taken the delivery of its fourth methanol-fueled tanker from Guangzhou Shipyard International.
Dubbed Stena Prosperous, the 49,990 deadweight tonnage (DWT) vessel will fully commercially operate on methanol.
The company's four vessels are claimed to be completely trading and bunkering on low-emission future fuel.
Its other three ships, Stena Pro Patria, Stena Pro Marine and Stena Promise, were also delivered this year.
Proman Stena Bulk held a naming ceremony for its Pro Patria ship last month.
Like other methanol-fueled joint venture vessels, Stena Prosperous will have low energy efficiency design index (EEDI) value while operating on methanol.
According to the company, the IMOIIMeMax vessel series is expected to have an EEDI of 11% below the 2025 Phase III requirements.
Around 12,500t of methanol will be used by the new vessel per annum.
Compared to conventional marine fuels, conventional methanol from natural gas helps remove Sox and particulate matter, reduce NOₓ by 60%, and CO₂ emissions from the ship's operations by up to 15% on a tank-to-wake basis.
With other key bunkering hubs to follow next year, the fleet of Proman Stena Bulk has already filled methanol fuel at Ulsan, Trinidad and Rotterdam in the past year.
Stena Bulk president and CEO Erik Hånell said: "It's fantastic to be able to end 2022 with a fourth methanol tanker joining our joint venture fleet. These vessels are truly pioneering and meet the highest standards of safety, sustainability and efficiency, laying down a marker for what is already possible today through progressive partnerships like ours with Proman."