arrow_left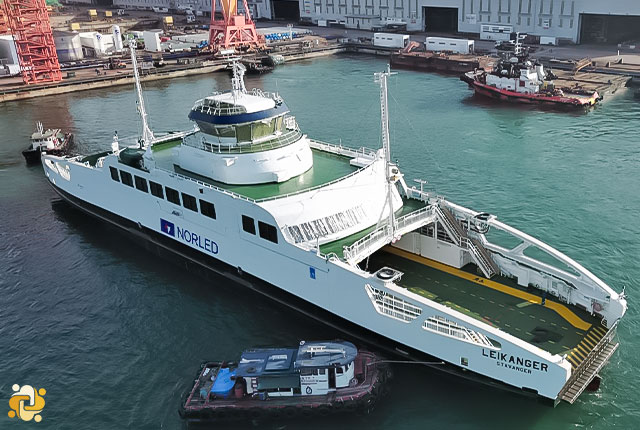 Sembcorp Marine Delivers Third and Final Zero-Emission Ferry to Norled
2023-01-10 10:40
Singaporean shipbuilder Sembcorp Marine has marked the delivery of the last of three fully battery-operated roll-on/roll-off passenger ferries for Norwegian ferry operator Norled.
The vessel, Leikanger, marks the third and final Ropax unit built for Norled by Sembcorp Marine, and follows the handover of the sister vessels Hella and Dragsvik in March and July of last year.
The zero-emission vessels are based on a proprietary design developed by Sembcorp Marine's wholly-owned subsidiary, LMG Marin AS. Similar to the sister ferries, Leikanger runs on lithium-ion batteries charged by hydro-electric energy power. The vessel can also operate in hybrid mode using combined battery-diesel power as an alternative.
Leikanger is also designed with a focus on safety and comfort for passengers and crew. The vessel is equipped with quick-connection shore charging plugs, auto-mooring and auto-cross capabilities, efficient hull, propulsion and heat recovery systems, as well as minimized hotel and auxiliary load solutions.
The vessel is being transported to Norway by a Roll dock heavy lift vessel.
The Leikanger will be deployed on Norled's short-sea Hella-Vangsnes-Dragsvik routes in Norway, joining the first sister unit Hella, which commenced service in May 2022, and second sister vessel Dragsvik, which started operations in December 2022.
With a service speed of 10 knots, the 82.4-meter-long multi-deck, double-ended ferry has the capacity to carry 300 persons, as well as 80 cars or a combination of up to 10 cars and 10 trailer trucks.
Norled took delivery of its first zero-emission ferry, MS Ampere, in 2014. Ampere was designed and built by Fjellstrand shipyard, located on the southwest coast of Norway, with battery technology provided by Siemens. In September 2014, the vessel won the prestigious "Ship of the Year" award at the SMM trade show in Hamburg, Germany.
Sembcorp Marine says these latest three additional zero-emission Ropax ferries will further advance Norled's objective of driving the green shift towards sustainable ferry operations and decarburization in the marine industry.
"We are pleased that our proprietary zero-emission Ropax vessel design and innovative hydro-electrification technology have been successfully integrated into the development of Norled's three battery-operated ferries built by the Group," says LMG Marin Managing Director Mr. Torbjorn Bringedal. "Custom-designed to fulfill Norled's sustainability, safety and operational requirements, these Ropax ferries will further enhance Norled's strategic positioning as a leading operator of sustainable ferry services."
Sembcorp Marine's Head of Specialized Shipbuilding, Tan Heng Jack, says construction of the Leikanger was completed with zero lost-time incidents.
"Sembcorp Marine continues to advance environmental sustainability through developing industry-leading solutions to drive the global transition towards cleaner energy solutions and maritime decarburization," adds Mr. Wong Weng Sun, Sembcorp Marine President & CEO. "The successful completion of the final unit of Norled's series of three zero-emission Ropax ferries is a validation of our green innovation capabilities and proven expertise in delivering sustainable solutions for the offshore, marine and energy industries."
Reference:
gcaptain