arrow_left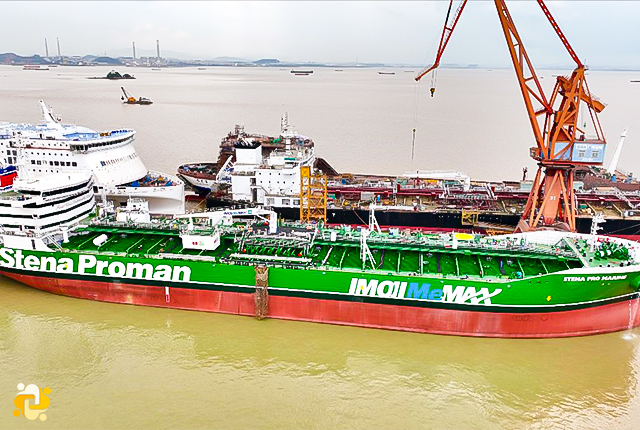 Proman Stena Bulk Takes Delivery of Second Methanol-Powered MR Tanker
2022-07-21 22:42
A joint venture between a leading global methanol producer and one of the world's largest tanker shipping companies has taken delivery of its second methanol-powered newbuild tanker.
The joint venture, named Proman Stena Bulk, was formed in 2019 as a 50-50 joint venture between Swiss-based methanol Proman and Stena Bulk. The JV announced Tuesday the delivery of the Stena Pro Marine, its second of six methanol-powered newbuilds ordered Guangzhou Shipyard International. The first vessel, Stena Pro Patria, was delivered in June.
The 49,990 DWT dual-fuel mid-range (MR) tankers are expected to consume approximately 12,500 tons of methanol per year. The use of methanol fuel virtually eliminates SOx and Particulate Matter (PM), cuts NOx emissions by 60% and reduces CO2 emissions by up to 15% on a tank to wake basis versus conventional marine fuels. In addition to immediate GHG emission reductions, CO2 emissions can be steadily reduced by blending increasing quantities of low-carbon and renewable methanol in the coming years, without any changes to engines or wider infrastructure, offering shipowners a pathway to net zero emissions.
"Vessels such as the Stena Pro Marine demonstrate to shipowners and policymakers that the industry can take proactive and immediate steps on the decarburization pathway," said Anita Gajadhar, Managing Director of Proman Shipping, Marketing and Logistics. "Proman and other producers are ramping up investments in low-carbon methanol technologies and renewables projects to meet rapidly expanding customer demand. As regulators continue to propel much-needed maritime decarburization, including the EU's 'Fit for 55' legislative package, these vessels underline the importance of a regulatory framework that relies on one certification methodology for alternative fuels and accurate emission measurements of all fuels, including reduced carbon-intensity fossil-origin products, which play an important early role in accelerating the switch to cleaner fuels and enabling the pathway to net-zero."
The Proman and Stena Bulk JV is expected to continue to invest in methanol as a marine fuel and support legislation and regulations that drive methanol's viability while continuing to develop production and infrastructure to boost methanol's uptake in shipping
"We truly believe that these vessels are not only a step forward for MR tanker design but are also a clear statement of intent to the market. They showcase our confidence in methanol as an important and viable solution for the future of sustainable shipping," said Erik Hånell, President and CEO of Stena Bulk.
Reference:
www.gcaptain.com